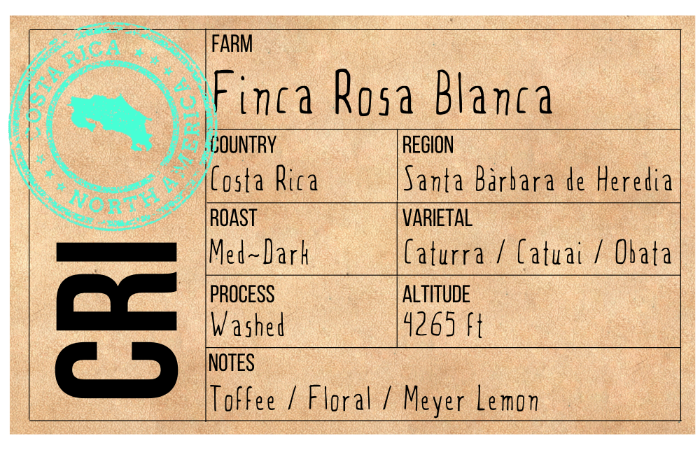 Your passport may be [temporarily] grounded but your taste buds can still travel!
We're delighted to share that Café Rosa Blanca – Finca Rosa Blanca's certified organic, shade-grown, high-altitude, hard-bean gourmet coffee – will be soon available with shipping to the U.S. and Canada. (In Costa Rica? Send us an email and we'll coordinate local delivery.)
Your purchase makes a difference. In addition to delivering a flavor-vacation to Costa Rica, every bag we sell helps keep people employed and Finca Rosa Blanca running, until we can again open our farm and resort to international travelers.
A Taste of Costa Rica
Located high in the mountains of Heredia, on the fertile overlap between the Poás Volcano and Barva Volcano, Finca Rosa Blanca's 30 acres grow some of the best organic coffee in Costa Rica: our Arabica varietals include the rich and flavorful Caturra and Obatá, with some guest appearances from Catuaí, Marseilles, and the world-famous Gesha (aka Geisha) coffee.
More than a laundry-list of coffee-flavored buzz words, Café Rosa Blanca represents Costa Rican culture and prosperity. Coffee is the crop that built the nation: the "golden bean" that funded our National Theater, fed our people, and put Costa Rica on the gastronomic map.
And now, you can bring it all home – a taste of Costa Rica, just when you crave it most. Travel the world, with every cup you brew.
Brew a Better Cup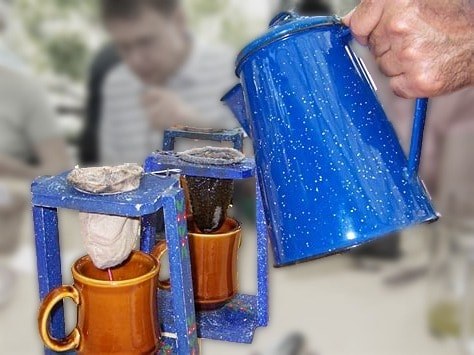 The shortest path to a great cup of coffee begins with great beans.
We have you covered there: Café Rosa Blanca is high-quality, hard-bean coffee grown under native shade trees, fertilized with rich worm compost, and certified organic by the Kiwa BCS. Hand-picked and medium-roasted to perfection, our coffee promises flavor notes of chocolate, apricot, toffee, florals, and Meyer lemon.
But, what really makes a great cup of coffee is that you love it. And we're passionate about crafting coffee that people love.
This is where you step in. You can brew Café Rosa Blanca in your favorite style, but we'd recommend trying Costa Rica's traditional pour-over method, known locally as café chorreado.
Here's how to brew a chorreado, the Costa Rican way:
Step 1: Boil water, then let it rest for a minute or so, to bring the water temperature down slightly. (Boiling water makes for burned coffee.)
Step 2: Meanwhile, grind your beans to medium. (You'll want about 12-14 grams per 6 oz. cup.) Place grounds into your chorreador/coffee sock. Since you probably don't have a coffee sock, feel free to fashion one from cheesecloth, a repurposed cotton nut-milk bag, or any other sock-like, food-safe equipment you have on hand.
Step 3: Place your coffee sock over your cup or coffee pot. When your water is ready, pour a small amount of water over the grounds. Wait about 30 seconds, or until the water has soaked through.
Step 4: Now's the fun part. Slowly, in concentric circles, pour over the rest of your water, achieving as great a distance between water spout and coffee sock as your arm-span and coordination allow. The greater the distance, the greater the crema!
Step 5: Your coffee is brewed. Prepare to your taste.
Enjoy! Or, as we say in Costa Rica, ¡provecho!