Covid 19 Protocols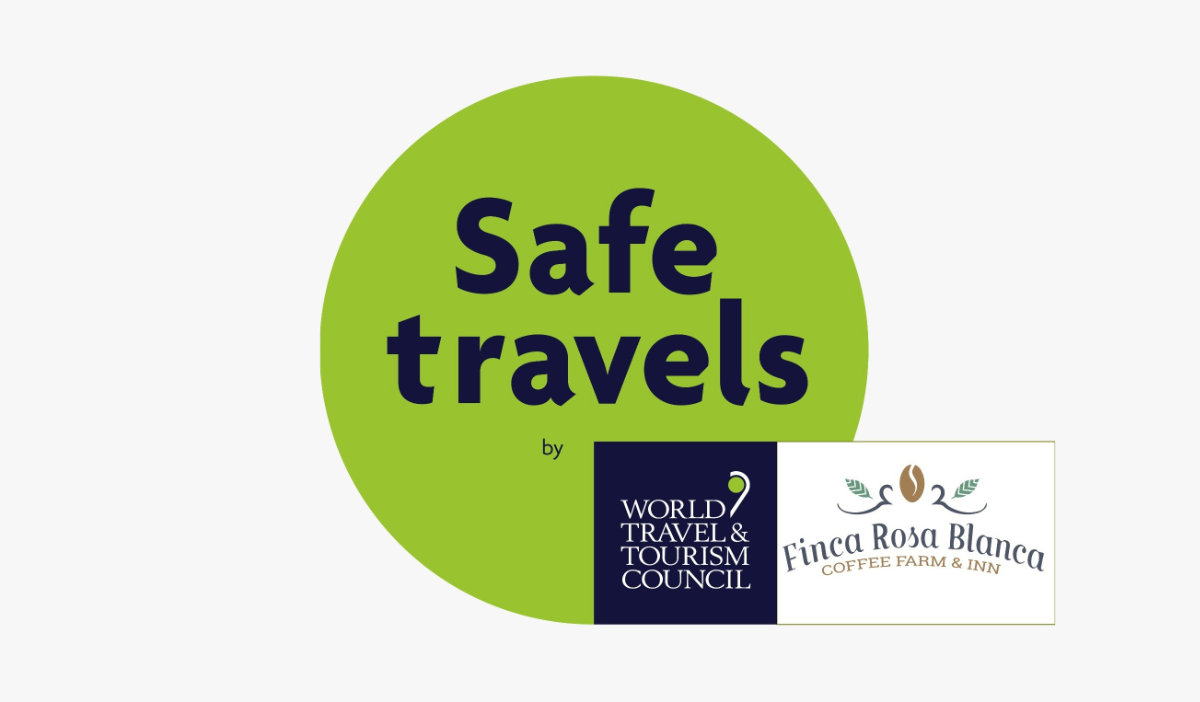 Welcome to Finca Rosa Blanca
Your safety, health, and travel experience with us have always been our top priorities. Now, more than ever, we're working to ensure your memorable and enjoyable stay in Costa Rica.
In response to the COVID-19 pandemic and the world panorama, we have implemented new health protocols, updated our hotel practices, and elevated our already high standards, in accordance with our ongoing commitment to your health and safety.
We look forward to welcoming you.

Jump to:
Finca Rosa Blanca COVID Protocols
We're In this Together: Community Responsibility
100% Vaccinated: 100% of our staff has been vaccinated.
We're Masked: 100% of our staff wears a mask, at all times.
Masks in Public Spaces: At Finca Rosa Blanca, as throughout Costa Rica, masks are required in all public spaces (except when dining).
Finca Rosa Blanca: Elevated Cleaning Protocols
Sanitation Manager: Our new Sanitation Manager is responsible for keeping Finca Rosa Blanca disinfected and sanitized, at all times.
Cleaning: We disinfect all high-traffic and high-touch areas, including our Front Desk, restaurant surfaces, and public restrooms.
Updated Hygiene Protocols: Our elevated hygiene measures include hand sanitizer stations and physical distancing in high traffic areas, face masks for our team members and guests and daily temperature checks for all team members.
Supplier Safety: Our third-party suppliers – including tour operators and transport services – are required to comply with strict safety measures, including regular surface disinfection.
Sanitized Surfaces: In addition to our standard disinfection protocols, we sanitize all room keys and our golf cart (for guest room transportation).
Pool: Pool seating is spaced and sanitized according to protocols.

Finca Rosa Blanca: Social Distancing & Low-Contact Experience
Digital Procedures: We've implemented digital check-in/check-out, online payments, and mobile registration. Our Digital Concierge app enables live chat, dining orders, bookings for in- and off-property guest experiences, and access to resort information.
Safe Transfers: All transfers will be private and vehicle interiors will be wiped down and disinfected between rides.

Finca Rosa Blanca: Housekeeping & Room Protocols
Sanitized Amenities: We disinfect telephones and safes after every check-out. We also deep-clean mini-bars and the coffee preparation area.
Updated Protocols: We've fully updated our housekeeping protocols to follow CDC and international health guidelines for disinfection, laundry services, and cleaning.
Choice in Service Frequency: You may now choose between daily housekeeping, drop-off service, or no housekeeping during your stay.

El Tigre Vestido: Dining & Restaurant Protocols
Digital Reservations: We use our own reservation service to adequately space dining reservations.
Regular Sanitation: We have updated our already rigorous protocols to include sanitizing all surfaces, after the departure of each restaurant guest.
Minimal Touchpoints: We've transitioned to digital and single-use menus (printed on recycled paper), as well as wrapped flatware and condiments provided only upon request.

Questions? Get in touch.
Hassle-Free Return Home: Onsite COVID Testing at Finca Rosa Blanca
Depending on your country of origin, you may need a COVID test before you return home. We offer two types (Antigen and PCR) of onsite testing at Finca Rosa Blanca, through a verified and approved local laboratory. Test results are delivered in both English and Spanish.
Please note that we do not upcharge or add any fees for onsite testing. You will pay the lab directly.
Antigen Test: Taken via nose swab, with results available in 3-4 hours. Total Cost: ¢38,000 (about $60), including the lab's onsite fee. Credit cards are preferred.
PCR Test: Taken via nose swab, with results available 24-48 hours after your sample is taken. Total Cost: ¢68,000 (about $110), including the lab's onsite fee. Credit cards are preferred.
Costa Rica Entry Requirements
Costa Rica's borders are open to international travelers and there are no additional COVID entry requirements:
No COVID Test Required: No COVID test is required to enter Costa Rica.
As of April 1, 2022, there are no requirements to enter Costa Rica as a tourist. Masks are still required indoors and in public places.
Note: Depending on your country of residence and/or transit, you may be required to take a COVID test prior to your flight. Please check with your airline for requirements.
Check current Costa Rica entry requirements.
Costa Rica maintains the requirement for the mandatory use of masks, the protocol for washing hands and taking temperatures, as well as compliance with health protocols for each tourist activity.

Tourists can verify if they require a visa to enter Costa Rica using the following link, Costa Rican Immigration Department