COVID19 UPDATE - Keep your stay safe, healthy, and fun.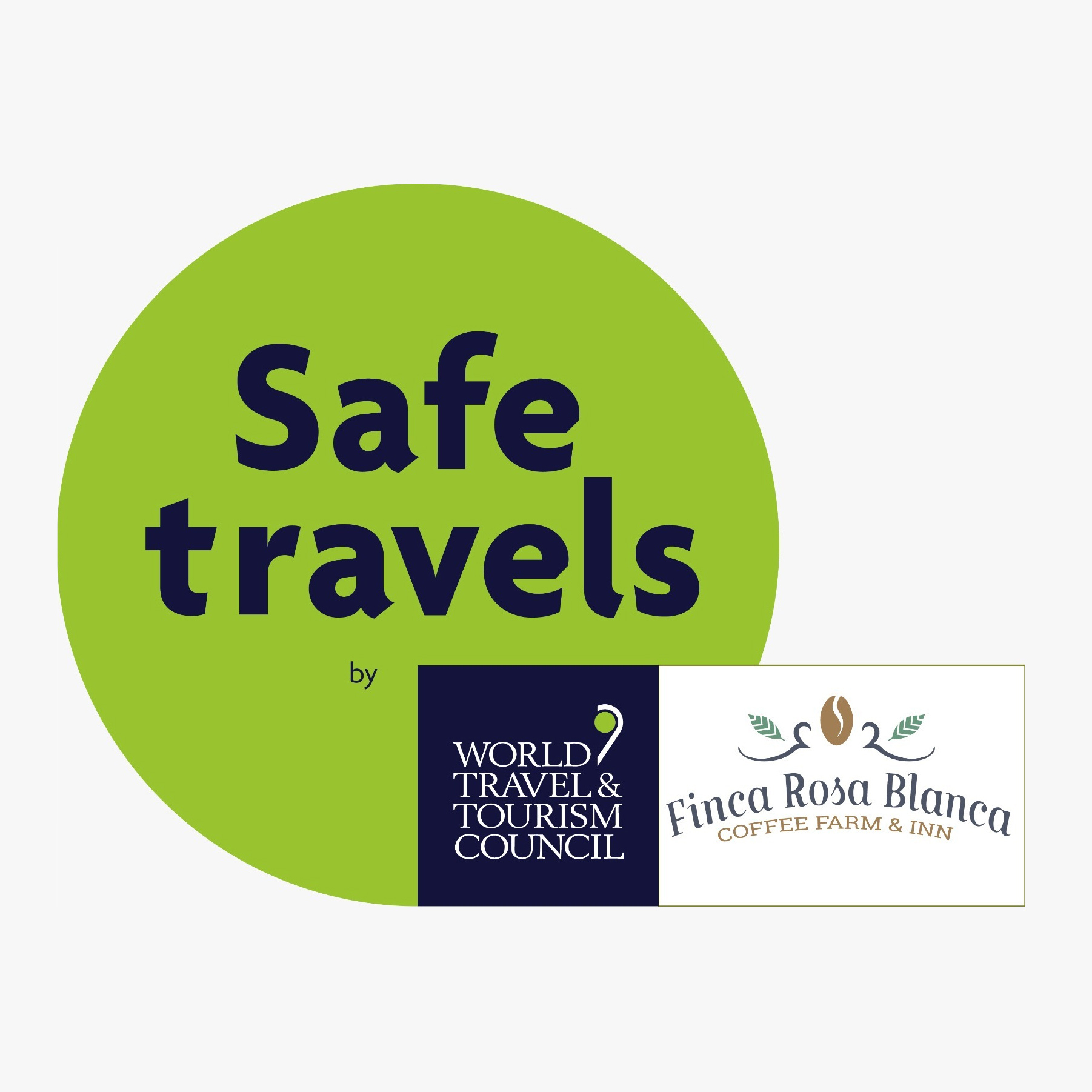 Welcome to Finca Rosa Blanca Coffee Farm and Inn. We have always had rigorous hygiene protocols, which we've updated to keep your stay safe, healthy, and fun.
RESORT-WIDE UPDATES
Sanitation Manager: Our new Sanitation Manager is responsible for keeping Finca Rosa Blanca disinfected and sanitized, at all times.
Hourly Cleaning: Every hour, we disinfect all high-traffic and high-touch areas, including our Front Desk, restaurant surfaces, and public restrooms.
Updated Hygiene Protocols: We've implemented a range of updated hygiene measures, including hand sanitizer stations and physical distancing markers throughout the resort, face masks for our team members and guests (included amenity), and daily temperature checks for all team members. All staff and guests maintain a distance of 6 feet (1.8 Meters) wherever possible.
Supplier Safety: Our third-party suppliers – including tour operators and transport services – are required to comply with strict safety measures, including regular surface disinfection.
ARRIVAL AND DEPARTURES
Staggered Check-In: We stagger arrivals and departures to minimize your contact with other guests.
Digital Procedures: We've implemented digital check-in/check-out, online payments, and mobile registration. Our Digital Concierge app enables live chat, in-room dining orders, bookings for in- and off-property guest experiences, and access to resort information.
Sanitized Surfaces: In addition to our standard disinfection protocols, we sanitize all room keys and our golf cart (for guest room transportation).
Safe Transfers: All transfers will be private and vehicle interiors will be wiped down and disinfected between rides. Luggage will be disinfected upon arrival.
GUEST ROOM PROTOCOLS
Fewer Touchpoints: We've redesigned our guest rooms to minimize high-touch, unnecessary amenities including our guest directory (available digitally), decorative pillows, and alarm clocks.
Sanitized Amenities: We disinfect telephones and safes after every check-out. We also deep-clean mini-bars and have swapped glassware and coffee mugs for disposable paper cups.
HOUSEKEEPING
Updated Protocols: We've fully updated our housekeeping protocols to follow CDC and international health guidelines for disinfection, laundry services, and cleaning.
Choice in Service Frequency: You may now choose between daily housekeeping, drop-off service, or no housekeeping during your stay.
DINING SERVICE
Digital Reservations: We use OpenTable to adequately space dining reservations and take orders in advance.
Reduced Seating: Our restaurant operates at a maximum 50% capacity to ensure physical distancing, including adequate spacing between tables.
Regular Sanitation: We have updated our already rigorous protocols to include sanitizing all surfaces, at least once an hour.
Minimal Touchpoints: We've transitioned to digital and single-use menus (printed on recycled paper), as well as wrapped flatware and condiments provided only upon request.
ACTIVITIES
Private Tours: Our signature Coffee Tour & Cupping tour, as well as Birdwatching, are now offered only for family groups and parties of two.
Pool: Pool seating is spaced and sanitized after each use, and pool towels are now delivered directly to guest rooms.
Information about "Safe Travels"