Tours and exploration are an integral part of the Finca Rosa Blanca experience. Whether you're traversing our fields on an organic coffee tour, checking off your species list on a birdwatching tour, or getting a taste of local culture on our Cultural Highlands tour, there's a good chance that Manolo will guide you.
Enter Manolo Muñoz, Finca Rosa Blanca's resident guide and guru – expert in all things outdoors, nature, and culture. Ask him a question, and he'll probably know the answer. (If not, he'll know where to find it). Hear the call of a bird, and he'll likely be able to identify it. Find a strange fruit at the market, and he'll definitely know its name.
All this to say, Manolo is a go-to kind of guy. So, we thought we'd help you get to know him, even before you take your first tour.
Meet Manolo Muñuz, Finca Rosa Blanca Tour Guide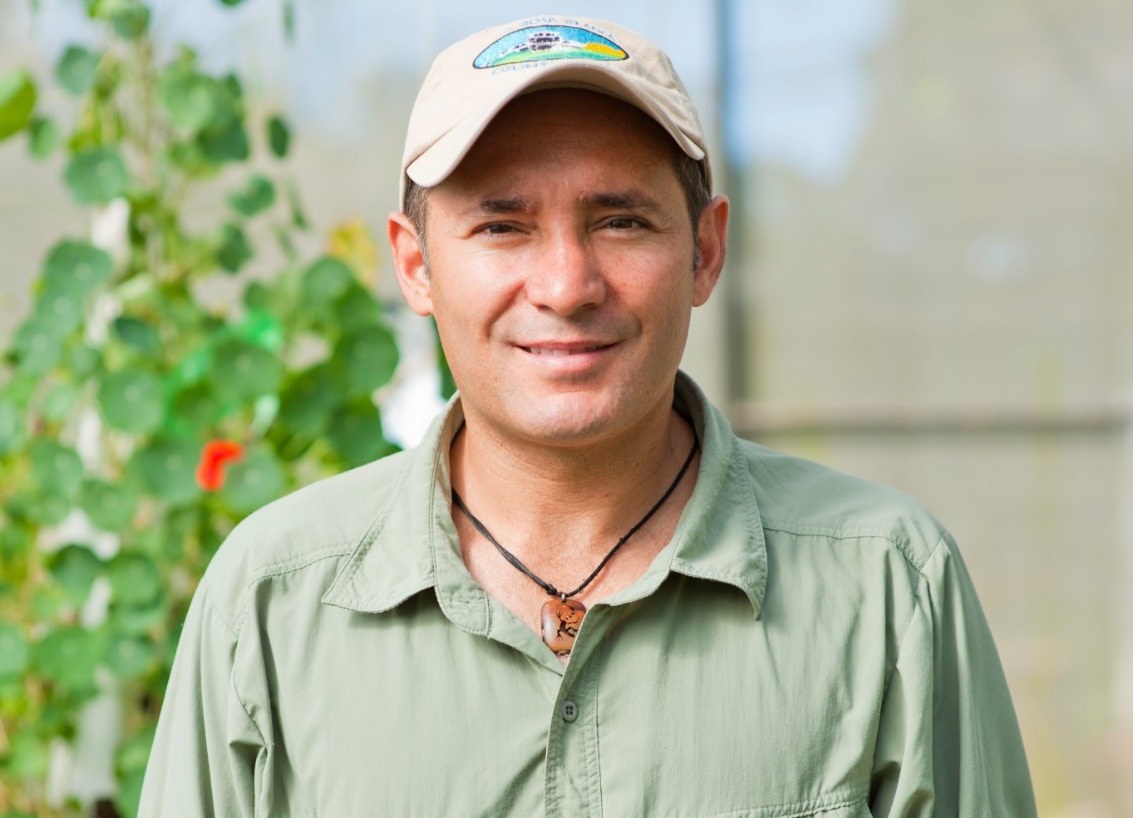 1. How long have you worked at Finca Rosa Blanca?
For over 20 years know, it's hard to believe! I've worked at Finca Rosa Blanca since 1997.
2. What's your official title? And, have you always held this title?
I began as a bilingual driver. Years later, I got my license to work as a naturalist guide throughout Costa Rica. Today, I work as Finca Rosa Blanca's cultural, coffee, and naturalist guide. Find me everywhere!
3. What do you love the most about working at Finca Rosa Blanca?
There are so many things that I love about working here, but what I love the most is the philosophy: sustainability in all its many iterations, which all seem to influence daily life here – including the daily life of those of us who work here.
If we're discussing what I love most about my job, specifically, I'd say that it's sharing time and experiences with people of different nationalities and varying walks of life. I love introducing guests not only to Costa Rica's natural beauty, but also to our country's customs and traditions, on the various tours that we have designed here at Finca Rosa Blanca.
4. You're the resident birdwatching expert at Finca Rosa Blanca. How'd you get into birding?
My interest in birds comes from my father; he was a bird aficionado and a skilled observer. In fact, much of what I learned about bird behaviors, I learned from him.

My initial interest in bird life led me to volunteer for the Ornithological Association of Costa Rica, where I networked with important people in the field. One of them was Julio Sánchez, who, in my opinion, is the top ornithologist and professor in Costa Rica. While at Finca Rosa Blanca, leading birdwatching tours, I also got to know ornithologists from the Hawk Mountain Sanctuary in Pennsylvania, USA, which I visited years later. I also ran birding tours for John Fitzpatrick, former director of the ornithology laboratory at Cornell University. All this to say, over the years, I've met many brilliant, influential, and inspirational people.

My interest in birding, coupled with these networking opportunities, led to birdwatching trips to various areas of the United States, Argentina, Cuba, and Panama. I've even published a scientific paper on motmots and their predation (hunting) of coral snakes – I'd be happy to discuss! – thanks to my colleague Luis Sandoval, a member of the CR Ornithologists' Union.

I guess you could say I love birds!

5. If you had to pick just one activity to recommend to our readers, what would it be?
If I had to pick just one activity – and it's hard to recommend just one! – it would be a day in the rainforest, where you can discover so much of Costa Rica's rich biodiversity.
(Discover the wonders of the rainforest on a hiking & rambling tour or daytrip to Braulio Carrillo.)
6. And if you could give guests just one more recommendation, about anything related to their stay in Costa Rica and at Finca Rosa Blanca, what would it be?
My best suggestion would be to work to conserve the natural resources of wherever you call home.
In the 23+ years I've worked at Finca Rosa Blanca, I've come to understand that sustainability, regeneration, and environmental stewardship are a way of life, not a way of travel. If we are to protect our planet and help repair some of the damage, it begins at home, with everyday choices and responsible decisions.
And, there you have it: Manolo, our guide and guru! Have questions for him (or want to book a tour)? Get in touch.