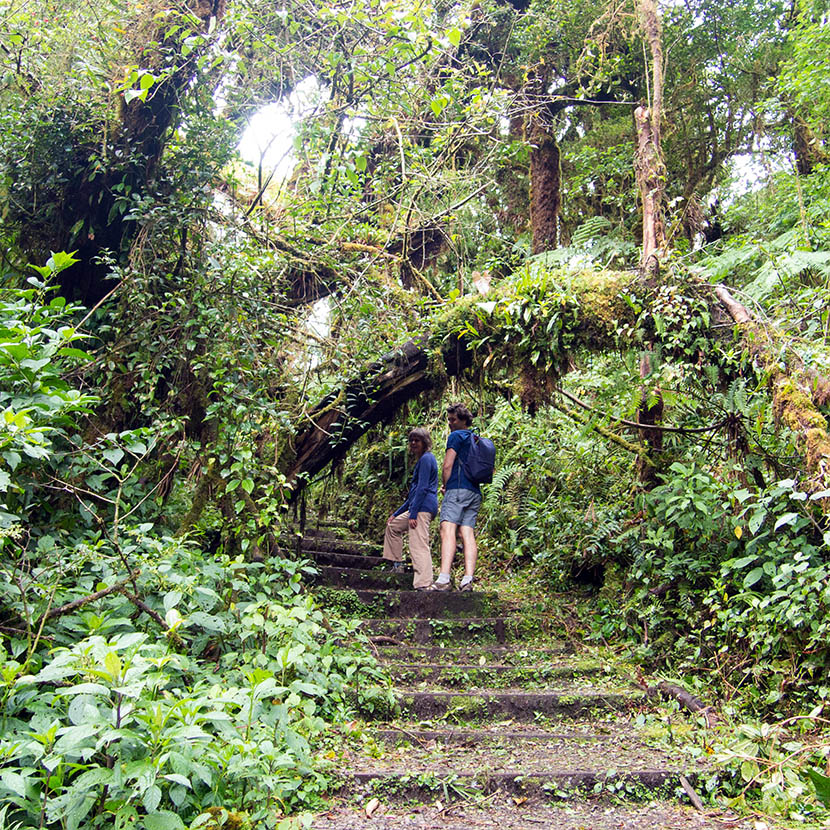 A vacation with friends is one of life's greatest pleasures: Exploring new locales. Sipping something delicious. Taking once-in-a-lifetime leaps into adventure. Savoring long sunsets and even longer meals. Hiking into the wild beyond. Laughing over a shared memory. Taking the time to just be, together.
Vacationing with friends boils down to one core ingredient: You enjoy each other's company –and you want to carve out a little more time to enjoy it. To dig deeper. To linger longer. To make memories. And so, you're looking to your next destination.
So, if Italy is perfect for history buffs and Tanzania calls out to safari adventures, if France seduces lovers and Japan is a pilgrimage for foodies, then where do friends go on vacation?
To Costa Rica! And here's why:
When You're Traveling with Other Couples…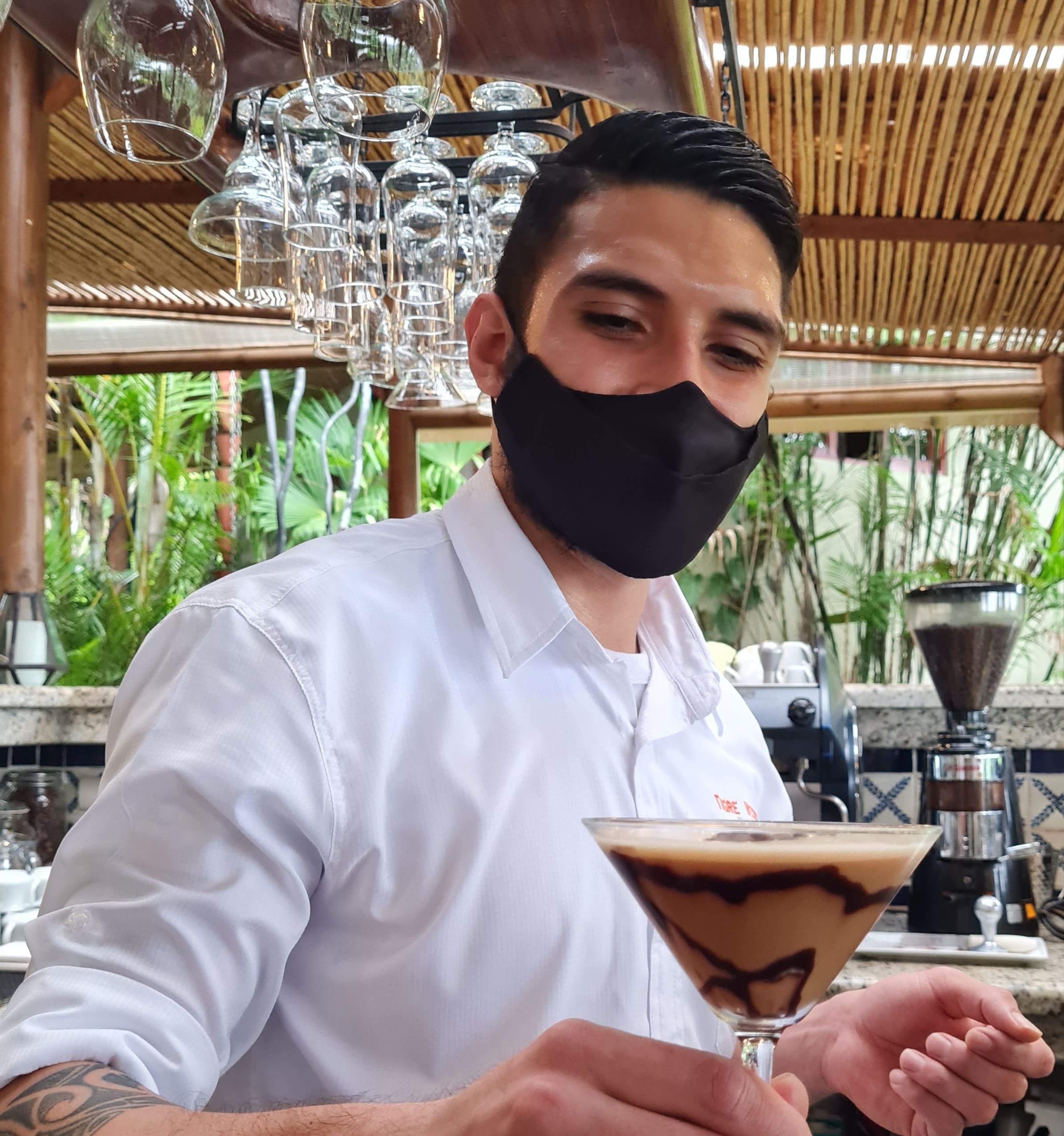 When it's not just the two of you, but several of your favorite couples traveling together, Costa Rica positively shines: Plan your vacation with friends – all the joy, novelty, and exhilaration of spending precious moments with friends – and pair it with romantic meals overlooking twinkling city lights, afternoons sipping coffee, and private moments for just you and your partner. Here, you can have it all.
🏳️‍🌈 Finca Rosa Blanca and Costa Rica, generally, are LBGTQ+ friendly destinations. We welcome all couples and friends!
When You're a Group of Friends Traveling Together…
Whether you're assembling the old college gang or escaping with your closest friends, Costa Rica delivers on incredible, memory-making, friendship-building adventures and activities, from hiking into an ethereal cloud forest and zip-lining straight into the fairy tale to trapsing through organic coffee fields and learning how to slurp (yes, slurp) like a true coffee connoisseur.
When You're Planning Your Next Girlfriend/Guy Friend Getaway…
Sometimes, the best way to reset and restore is to step away from your everyday and spend some quality time with your best friends. In addition to the standard-for-Costa-Rica (but not-standard-for-almost-anywhere-else) vacation fare, like active volcanoes and sea turtle nesting sites, Costa Rica layers on just the right combination of mud baths and spa days, adventurous dining and craft beer, live music and epic sportfishing.
When You're Escaping the Holiday Rush…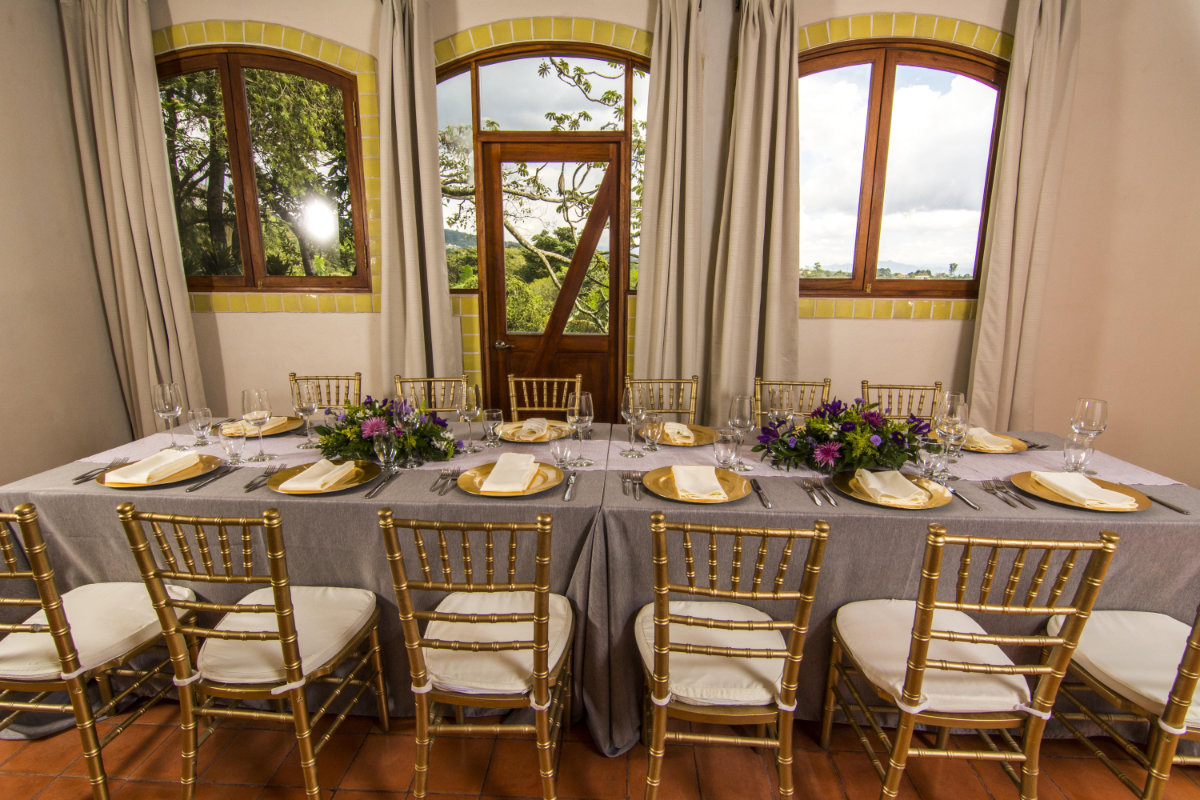 Have you ever wished you could walk away from menu-planning, put away your fine china, and let someone else cook your holiday meal (and do the dishes)? Or even, skip the meal entirely and simply escape to somewhere that's not decorated in tinsel or turkeys or Spring Breakers?
Welcome to Costa Rica for the holidays: From Thanksgiving and Christmas (including winter sun vacations) to New Year's, President's Day, and Spring Break (or alternative Spring Break, as we like to think of it), we make your holidays a little warmer and a lot more adventurous – exactly whatever you want them to be, whether you plan to "celebrate" with a long hike and a late lunch or are more the type to deck the halls with boughs of palm fronds.
Costa Rica Vacations with Friends: 4 Ways, Infinite Possibilities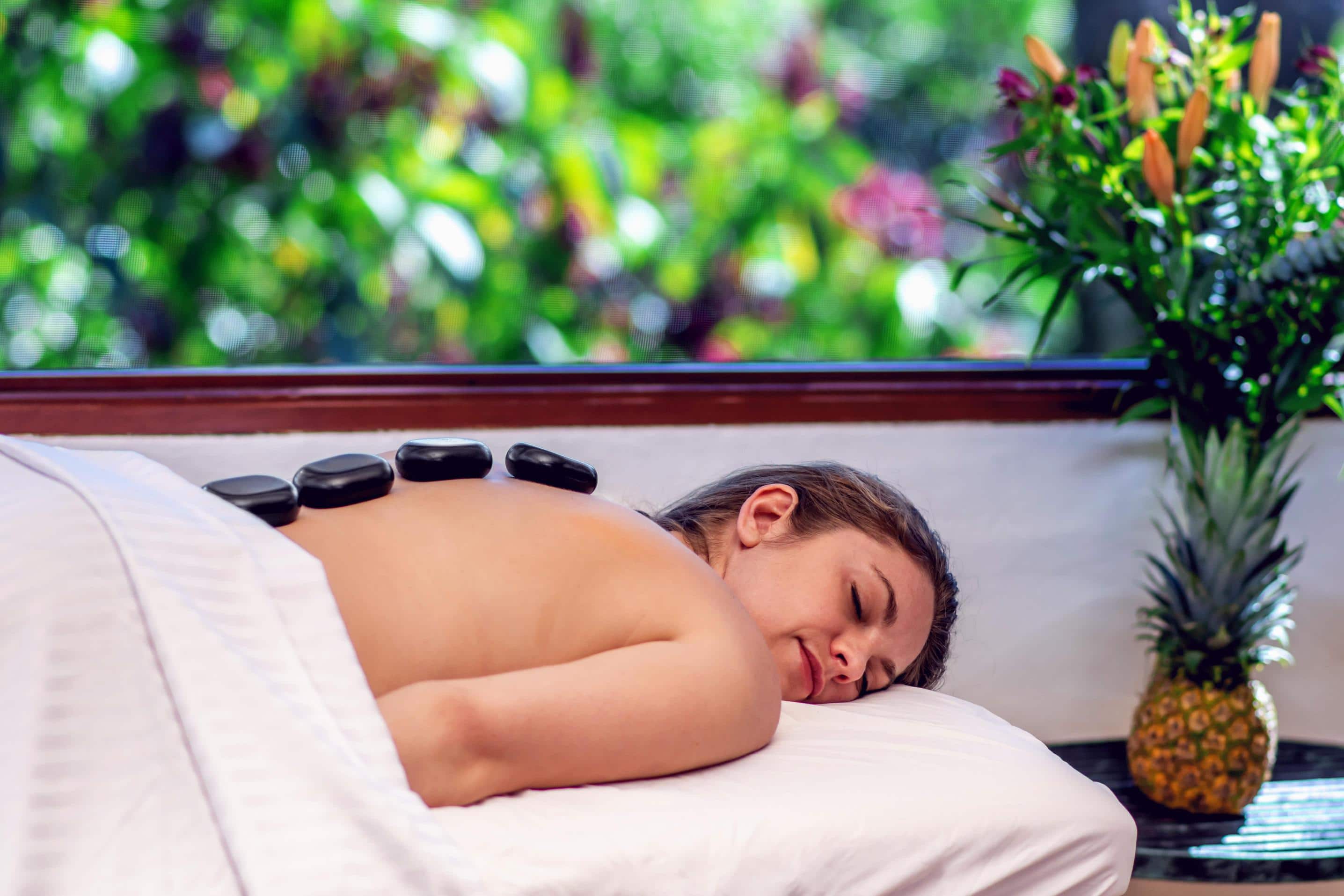 One reason that Costa Rica is so enticing for friend vacations of every type is our sheer diversity of options, paired with friendly adaptability to your needs.
Of course, in part, it comes down to the many activities, natural wonders, and other attractions contained within such a small country: raw and often untamed biodiversity, on an extraordinary scale. From highland coffee fields and mist-hung cloud forests to oceanside rainforests and volcano hot springs, Costa Rica packs nearly everything but snow into her diminutive national acreage.
But it's more than that. Over the decades, Costa Rica has evolved into professional hospitality and acquired seasoned travel expertise: Here, you'll find explorations, trips, and itineraries tailored to every type of traveler and every varied wish list. What's more, experience has ceded to dynamic flexibility – to an ability to build the vacation of your dreams, even when those dreams are shared with friends. Think of us as your Venn diagram: Your overlap resides here.
And that means you can plan your perfect vacation, your friends can plan their perfect vacation, and you can all relish that same, shared vacation together:
Adventure: Costa Rica excels at adventure, adrenaline, and all things thrilling. (See the full list of things to do near Finca Rosa Blanca alone!)
Culinary: The hidden gem of the culinary travel world, Costa Rica's burgeoning food scene pulls on Meso-American, pre-Columbian, and European influences to create new dishes rooted in both the freshest ingredients and the oldest traditions. You'll taste what we mean at El Tigre Vestido, Finca Rosa Blanca's restaurant, and on our organic coffee & cupping experience and the Taste of Costa Rica tour.
Restorative/Wellness Experience: Need a break from the rat race? Crave calm and renewal? Costa Rica and Finca Rosa Blanca deliver an invitation to deserved decadence and total serenity. From traditional massage and foot reflexology to mud baths and coffee-and-chocolate scrubs, from rambling hikes and morning birdwatching to pool afternoons and yoga on the mountaintop, you can pamper, restore, and relax your way to inner tranquility.
Romantic: In Costa Rica, you can simultaneously plan a friends getaway and a romantic vacation. You can plan time with friends AND carve out private moments together.
Costa Rica Friends Vacation: A Suggested Itinerary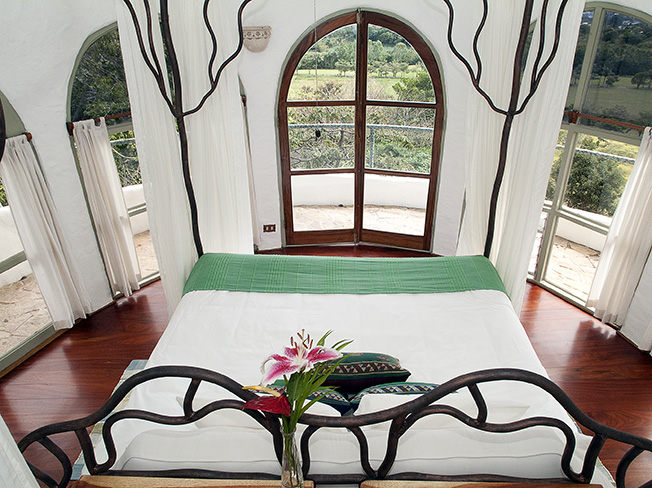 Kick off your trip planning with a quick tour of Finca Rosa Blanca's accommodations: 14 spacious junior suites, suites, and villas – each unique, each offering its own flavor. Share a villa with friends or reserve the Master Suite for yourselves. Our paradise is your oyster!
And speaking of flavors, your reservation always includes a full à la carte breakfast (pancakes, pinto, and omelets, oh my!) with tropical fruits, freshly squeezed juice, and Café Rosa Blanca. Also included:
Complimentary Wi-Fi throughout the property
Access to our swimming pool and outdoor hot tub, plus nature trails and gardens
Daily complimentary afternoon coffee with cookies
Free local and international calls from your room
Optional extras, including onsite COVID tests (antigen or PCR), airport pick-up/drop-off, rental cars, and more.
Next up, it's time to plan your time in Costa Rica – and it's no easy task! Within daytrip-distance of Finca Rosa Blanca alone, you'll find a wild variety of active volcanoes and meandering hiking trails, zipline adventures and wildlife rescues, river rafting and fresh flavors.
And so, your friends vacation in Costa Rica will be very much a function of you: what you love, what you seek, what you've always dreamed. Here are some suggestions to get you started:
Arrival Day: Welcome to Finca Rosa Blanca!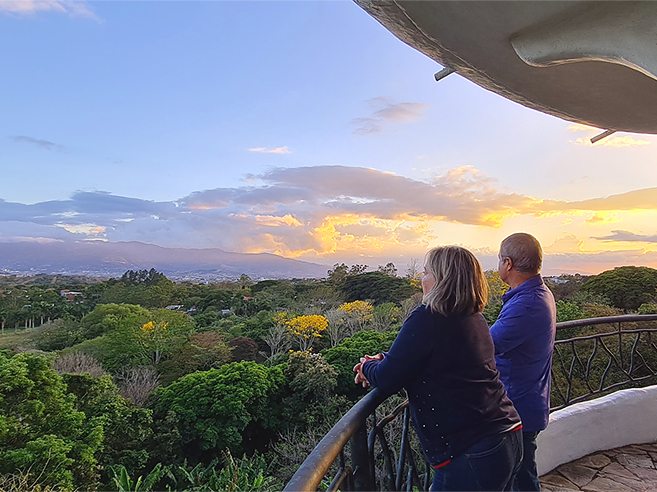 Your private driver will meet you at San José's Juan Santamaría International Airport. Enjoy the leisurely 15-20 minute drive to Finca Rosa Blanca.
Upon arrival, settle in and then swing by the restaurant for a cup of Café Rosa Blanca and our spectacular valley view. If you have time before dinner, take a stroll along our trails, swim in the pool, and take a dip in our Jacuzzi.
Day 1: Physical Challenge, Bodily Bliss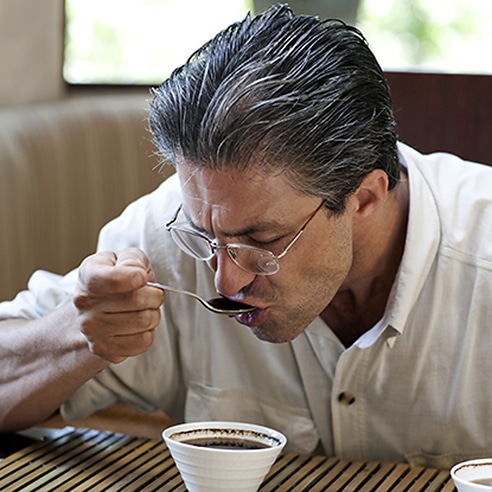 After fueling up on our beloved à la carte breakfast, enjoy the best and most apropos welcome to Costa Rica and Finca Rosa Blanca: Our organic coffee and cupping experience: A 2.5-hour walk through coffee plants, wildlife habitat, and shaded farmland, with a visit to our drying and roasting area, plus a full coffee cupping session. (Be ready to slurp, as promised!)
In the afternoon, schedule a hike through gorgeous highland cloud forests, lush and pristine rain forests, and along the banks of a tropical river. Looking for something a little less challenging? Pace yourself at Finca Rosa Blanca or one of our nearby rambling walks, which meander over gentle hills and forest to reveal sweeping views and, if you're lucky, native wildlife.
Seeking something even more tranquil? Dedicate an afternoon to El Targua Wellness Retreat and lounging on your porch or balcony. Vacation can be about doing everything or nothing at all!
Day 2: Birds, Backstory, and Friendship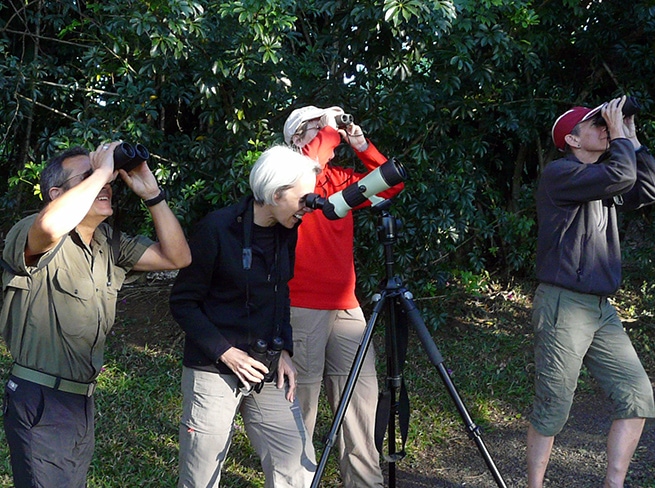 Rise with the sun (or almost) to explore one of the best birding destinations in the world: Costa Rica is home to 921+ permanent and migratory bird species, including 130+ species of birds (PDF) at Finca Rosa Blanca: Peel your eyes and bid luck be on your side, and you could spot Montezuma oropendola and crimson-fronted parakeets, ferruginous pygmy-owls and Lesson's motmots.
Come mid-morning, it's time for one of our favorite tours. Because Finca Rosa Blanca is a conscientious destination and regenerative hotel, which means we practice genuine hospitality, respect for our lands, and harmonious integration with our ecosystems and community. Learn about this incredible place we call home – about the rich and storied tapestry of Costa Rica's history and Central Valley heritage – on our Cultural Highlands Tour.
You'll return after lunch – in time to take a dip in the pool, stroll the grounds, and carve out a little "us time" for conversation, a game with friends, or a long coffee break.
Day 3: Ziplines, Waterfalls & Adrenaline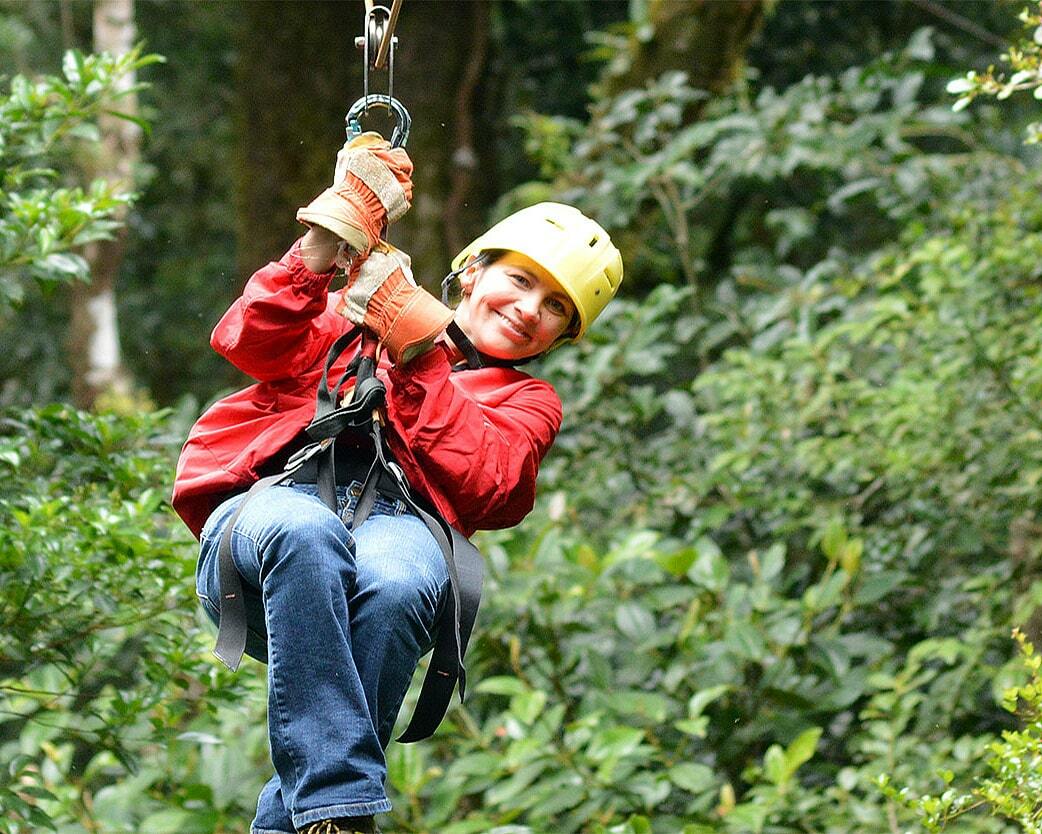 By now, you're restored and ready for adventure. Go all-in with our favorite canopy zipline tour: With your toes gripping each platform and the ground several stories below your feet, you'll leap into the cloud forest abyss time after time, flight after flight, thrill after thrill. A system of cables, platforms, and paths ranging 60 to 600 feet long invite you to experience an amazing array of flora and fauna, tropical rivers, and cascading waterfalls. Embrace the adrenaline!
More for floating than flying? Swap a canopy tour for river rafting on your choice of Class III, IV or even V rivers – an exhilarating paddle through our mountain landscapes and the exuberance of Mother Nature. As the adrenaline flows, you'll fall in love with the scenic beauty of our rivers and their surrounds.
In the afternoon, enjoy your final hours at Finca Rosa Blanca with a tranquil hike, a spa treatment, or a dip in the pool. Or, simply brew yourself some coffee, sit out on your private balcony, and enjoy the view.
Pair with: The Nicoya Peninsula and Arenal Volcano
Extend your bliss at Nantipa Hotel and Tabacón Thermal Resort & Spa, our partners in sustainable luxury and authentic Costa Rica experiences.
Nantipa is a true Tico beach experience: Located on the secluded shores of the Pacific's Nicoya Peninsula, the hotel fronts vivid green rainforest and deep blue waters. Its 15 guest bungalows all offer a distinct experience, with a few things in common: privacy, luxury, and all the amenities, paired with sunset dining and ocean everything, from surf lessons to horseback riding down the beach.
For Costa Rica's volcanic experience, you and your friends will head to Tabacón, one of the country's most photographed paradises. (If you've seen pictures of Costa Rica's hot springs, chances are you've seen photos of Tabacón!) Here, wrapped in luxury and the spa experience, you'll spend your days exploring one of the world's most perfect volcanic cones, bathing in thermal bliss, and indulging in the rainforest's breathtaking beauty.
Customize Your Costa Rican Friends Vacation
If there's one thing we know as well as we know Costa Rica, it's that there is no such thing as a one-size-fits-all vacation. And so, we invite you to tweak, customize, and piece-together to your heart's content: Build a friends vacation to Costa Rica that encompasses and combines all your wish lists, without exhausting you too much to enjoy it.
We look forward to welcoming you and your friends!